Visiting Cambodia to Explore Market
In the Middle of June, TANO CABLE team sent the representatives to visited Cambodia to explore the market.
During the period, we met many customers who do cable business and power transmission lines in the local. We were shocked by the huge market of the ABC, AAC, ACSR, AAC aluminum products. Since they are our advantage products, we do not only can make sure a fast delivery, but also can provide them with best quality. After meeting with customs, we learn more about the market and are more confident about the market. We took many samples to customers. They were satisfied with the quality of the products and gave high comment on them. They said the quality of the products is better than them in the market now. And expressed they want to cooperate with us very much. But, some of them still worried about the quality and doubted whether we are a manufacturer or not. We strongly invited them to visit us and see our factory, since when you see everything you will believe it. The visiting was successful. It made our relationship with the customers closer and let us have a clear goal about the market. Learn more and provide more to customers. TANO CABLE is doing harder and harder to be the best cable and wire supplier.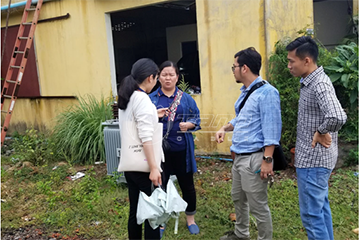 Visiting the transmission base station and checking the products.