EU-Africa interconnection submarine cable into the key stage of the project
The EuroAfrica Interconnector connects Egypt, Cyprus and Greece to the European continent. Recently, all project participants signed a memorandum of understanding, submarine cable project into a key stage of project research.
Officials attending the Cairo signing ceremony pledged to abide by the EU-Africa energy bridge linking Egypt, Cyprus and Greece to the European power grid.
The purpose of the Euro-African interconnection submarine cable is to provide important economic and geopolitical benefits to the countries concerned and to help the EU achieve 10% of the interconnection objectives between the member states.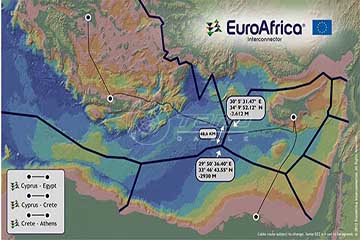 Nasos Ktorides, President of Eurocable Submarine Cable, said the partnership would only benefit three participating countries.
"Greece will improve energy efficiency and become an important player in the European energy sector; Cyprus will be a power hub in the southeastern Mediterranean; Egypt will become an important energy center in Africa and a relay to the continent," Ktorides said. Mohamed Shaker, Egyptian Minister of Electricity and Renewable Energy, stressed the importance of submarine cables as part of the national strategic plan for economic development and energy security, at a joint press conference attended by senior officials from the Egyptian Ministry of Energy, Power and Foreign Affairs.
Shaker on behalf of the government and his personal emphasis will make this a great project a reality.
Earlier, Egyptian President Ceci and Prime Minister Sharif Ismail, the Minister of Electric Shaker held a meeting, Ceci expressed the Government's commitment to the implementation of the project.
After the meeting, Shaker said the president asked him to report on the progress of the project on a regular basis every week and to ensure that the entire project was completed within the specified time.
At the signing ceremony, Egyptian power company president Gaber Desouky said that this is a historic moment, makes Egypt to connect to the pan-European power grid the day closer.
In a short speech, Ambassador Charis Moritsis of Cyprus and Ambassador Michael Christos Diamessis of Greece also expressed their Governments support for the project. The conclusions of the necessary studies will mark the beginning of the implementation of the interconnection submarine, which will help to strengthen the energy security and independence of the three countries and allow them to export electricity to the energy deficit of European countries.