Customer from Japan Visited the Factory on March 2nd, 2017
On March 2nd, 2017, Customer from Japan visited the manufacture for cooperation of ACSR products producing. The customer is one of leading cable manufactures in Japan, this time to visit our factory was looking for a cooperation on our advantage bare conductors, especially the ACSR. Since they have many projects on the Southeast Asian market as a big company.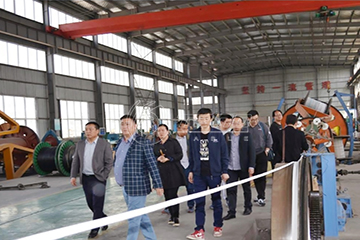 Before the visiting, TANO CABLE has provided the quotation to them. They were satisfied with the price very much. To learn more about the company, they asked for the company's information, certificates as well as the supply records. Though they have confirmed the company information, we were told they would visit the manufacturer to confirm by themselves since they are cautious with the partner.
After they arrived the company, the president from TANO CABLE expressed our warmly welcome to them. Then the oversea sales manager introduced the company's history. The customer appreciated the company very much. After that, two parts discussed the quality of the products, the way to supply products, the package, and how to avoid the damage on long travel and some other questions. Our technician answered the questions and accompanied them to visit the workshop and the laboratory to explain every step in detail. They were strict with everything; however, as a leading cable and wire manufacture with more than 20 years, we have confidence to ourselves since we are high-demanding at every day and at every product. We talked about the future cooperation after finishing the visit and signed a long-term business.
Customers from everywhere are welcomed by us. Any demand can visit www.tanocable.com for more information. TANO CABLE welcomes your inquiry.