Asia-Africa submarine cable system AAE-1 will be upgraded to 200Gbps
Italian infrastructure provider Retelit announced that the management committee of the AAE-1 submarine cable system connecting Asia, Africa and Europe has chosen to upgrade the network from the current 100Gbps function to 200Gbps.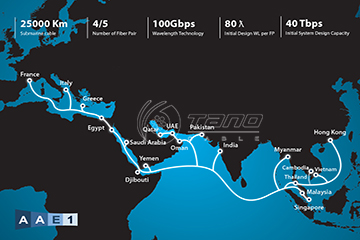 The 25,000-kilometer submarine network of 19 global service providers connects Asia, the Middle East, East Africa and Europe to 19 countries and regions: Hong Kong, China, Vietnam, Cambodia, Thailand, Singapore, Malaysia, Myanmar, India, Pakistan, United Arab Emirates, Oman, Qatar, Saudi Arabia, Djibouti, Yemen, Egypt, Greece, Italy and France.
AAE-1 has been described as "the longest 100Gbps technology for submarine cable systems" and offers design capacity in excess of 40Tbps. Retelit said the decision to install 200Gbps technology was made 18 months after AAE-1 was launched and two years ahead of schedule.