CRU: 2015 Global insulated cable output declined 7.2%
British commodity research firm CRU released the report in 19 September, stated that in 2015, the world's top 30 largest insulated cable manufacturer's output value reached $65 billion, which declined 2.6% than last year.
The report said, in 2015, global insulated cable output reached $156.4 billion, declined 7.2%.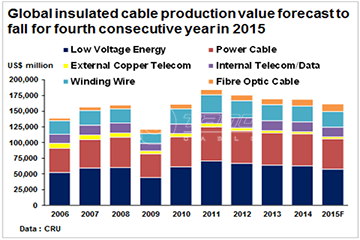 CRU said the rapid decline in copper and aluminum prices led to insulated cable output decline.
CRU said in the report that the British withdraw from the EU caused more uncertainty of Europe market, CRU 2016 will once again cut insulated cable market demand growth in 2016 recently. Moreover, CRU believes that demand growth momentum will not last until 2017.