Google submarine cable extension to Taiwan
Google announced on September 6, FASTER submarine cable systems extension line to Taiwan officially opened, which allows the system to connect Asia to further expand the range.
In June, Google announced FASTER submarine cable system to connect Japan and the US officially put into use. FASTER submarine cable system reach a total length of 20 km, in addition to Google, China Mobile, China Telecom, SingTel, KDDI in Japan and Global Transit in Malaysia also participate in the construction,NEC Corporation of Japan is responsible for the construction of submarine cable, which is currently the world's longest cross ocean submarine cable system.
According to reports, Asia's largest data center of Google is in Taiwan, build connection line extending to Taiwan help to further enhance the speed of data transmission.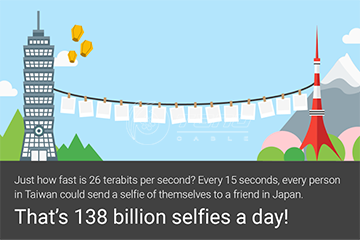 FASTER submarine cable system uses six pairs of optical fiber cable transmission, transmission speed up to 60Tbps. Among them, from Japan to Taiwan extension line is built by Google, Taiwan NCIC and Japan KDDI who jointly invest $ 50 million, the transmission speed is 26Tbps. Google take an example of Taiwan users sharing pictures with friends and family in Japan, a picture transmitted to Japan need about 15 seconds, and he can transmit about 138 billion pictures a day.
Google said that the construction of FASTER submarine cable system avoid the tsunami-affected region, it is possible to minimize the threat of natural disasters on the submarine cable. At the same time, opening of the new submarine cable will further enhance the transmission capacity, giving users a better online experience.