Trends: Industrial controls move forward with hybrid cable solutions
As industrial automation grows and becomes more complicated, more sophisticated control technologies emerge. For industrial cables, this means the need to reach faster speeds; more compact, lighter designs; hybrid cable and single-cable solutions to minimize space; and as always, extremely high-flex cores and jackets that can withstand the movement of industrial robotics and other machine systems.
Responding to the IoT
The need for cloud-enabling technologies is increasing at a rapid clip. For industrial cables, particularly Ethernet designs, this means the need to transfer data at very high speeds, said Rich Buchicchio national sales and marketing manager at Cicoil. In addition, he said, markets like the semiconductor and medical automation equipment industries are also requiring faster cables.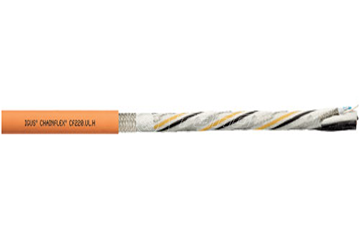 Steven Kenney, marketing manager, Performance Cable Systems and Materials Div., Hitachi Cable America, added that the biggest change in recent years has come in the need for cables that can deliver dc power and data over the data wires in the various power-over-Ethernet designs. "This will be a game changer for the data and industrial users as these solutions grow beyond IP phones and into mainstream use," he said. These changes have impacted research into Ethernet cables for continuous flexing in cable carriers and on robots, said Don Nester, product manager for Chainflex cables, igus Inc.
"The Internet of Things will have a profound effect on automation. The challenges of this technology will bring the need for increased data rates used in process control," he said. "The life cycle of cables and components will have direct effect on the efficiency of the process and therefore need to be more robust. For example we have already started to see the demand for Ethernet cable increase over the past 10 years exponentially every year … for every level of network performance up to Category 7.
Technological advances now even allow for real-time data transmission in the range of milliseconds, said Horst Messerer, data network and BUS technology sales manager, HELUKABEL. "Ten years ago, we had BUS cables with slow data rates, with maximum 16 Mb. Today we have PROFINET, Industrial Ethernet, and so on, with data rates of 100 Mb—10 Gb," he said.
Miniaturization leads to hybrid designs
Kenney said that the weight reduction in automotive in-vehicle communications, hybrid or all electric designs and medical devices is driving designers toward lower weight, thinner designs. Robotics, too, require lighter weight designs, he added, so the trend is continuously smaller, more robust designs.
We are pushing 50 AWG high-flex copper alloy cable designs now for medical, industrial and robotic applications regularly, unheard of 10 years ago," Kenney said. "A 50-AWG conductor is 0.000986 in. in width. We have one photo of our wire wrapped around a human hair. This is the scale we are working at now, not as a special design, but for common projects."
This move to lightweight designs has allowed Cicoil's flat, flexible designs to be used in wearable electronics, said Buchicchio, something impossible 10 years ago. "Since we are able to incorporate high tech signal wires in our highly flexible and lightweight flat cable package, we now have the ability to make cables for this industry: military, costumes, virtual reality, space, clothing," he said.
Additionally, developments in automation mean that more users are starting to use motors with a single cable for servo power and feedback, said Nester. "This reduces the number of cables needed and also reduces downtime and maintenance," he said. "These single cable designs incorporate digital encoder technology into the power cable. New cables must be used that incorporate the feedback function and ensure good EMI protection as well as mechanical performance in the case of continuous flexing."
Thomas Pikkemaat, drive technology product manager, HELUKABEL, said this clear trend toward hybrid cables—such as power supply/control and data conductors in one cable—will reduce the number of cables used in industrial automation. "We are seeing enhanced data cables, wireless LAN, hybrid cables like our TOPSERV Hybrid one-cable solution, which point toward a reduction of cables," he said. "Everything points toward a reduction in cable volume."