Markets: North America regional cable industry statistics
The US accounts for 72% of North America's metallic cable production in terms of conductor tonnes. Mexico's cable production is 22% of the North America total, and Canada's is 6%. The vast majority of the US cable manufacturers' output is for the domestic market. The US is a net importer of cables. Almost half of its imports are from Mexico. Of the US cable exports, more than half go to its neighbours, Canada and Mexico. Even with this inter-regional trade, the US economy has a major effect on the amount of cable consumed and produced in North America.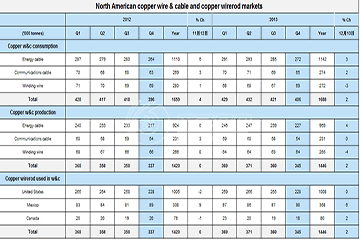 The US and the North American cable markets, in terms of conductor tonnes consumed, have not yet attained pre-recession levels. The region's market growth has been hampered by economic problems in the US. Housing starts, for example remain well below the annual totals achieved in 2006 and 2007. In 2013, there were some months when the annualized rate approached one million, but these surges were not sustained. US housing has a strong effect on employment, which also has been showing a gradual and uneven recovery.
The economy in Mexico was the region's bright spot in terms of GDP growth after the recession. Mexico's economy grew at annual rates of 4% to 5% in 2010, 2011, and 2012, compared with rates of 2% to 3% in the US and Canada. All three markets showed slower growth in 2013. In terms of industrial productivity, Mexico's trend tracked with US and Canada in 2010 and 2011. In late 2012 and early 2013, Mexico's industrial productivity fell sharply. The year-on-year change in Mexico's IP data was a negative percentage from Q4 2012 through Q3 2013, before bouncing backup in Q4 2013. Canada had a negative quarter in Q2 2013, but the US has posted positive year-on-year growth in IP for every quarter since Q2 2009.
The result of these economic conditions has been a 1.8% year-over-year increase in the amount of copper wire and cable produced in North America in 2013. This percentage compares favourably with the 1.5% downturn in Europe's copper wire and cable production in Europe, which we reported in the January issue, and the 1.3% downturn in Northeast Asia, which we reported in last month's newsletter.
The US economy has had a shaky start to 2014, with harsh weather affecting consumer spending, along with some uncertainties about the Federal Reserve Board and US policies regarding Russia. Automobile production and other industries, however, have showed strong trends in February, confirming views that IP growth will improve this year.