Global insulated metallic wire & cable market weakens further
CRU's analysis shows a further softening of the global insulated metallic wire and cable market in the three months since the last Wire & Cable Market Outlook, leading to a further downgrade of the growth forecast for 2015 to 2.1%
Growth in China will be the slowest since CRU's data series began in 1996 and the North American market remains weak with demand from the oil and gas sector having fallen sharply as new investment has almost stopped. The slowdown in China has hit the three North East Asian countries with Japan, South Korea and Taiwan seeing falling output this year.
The Russian market is forecast to be down by over 15%. One small positive is that CRU is forecasting that Western European production will be slightly higher, which would be the first year of growth since 2010. In contrast to the metallic cable sector, the global fibre optic cable market will have another good year driven by further strong growth in China.
With the average copper price forecast to fall by 18% in 2015 and the average aluminium price set to end the year 10% lower, the weak volume growth will result in a significant fall in the value of the global insulated wire and cable industry. CRU is estimating that global production and consumption will both fall by 8.5%, which will leave the global market with a total value of under $160 billion. This will be the lowest since 2009 and it means that the market value will have fallen for four consecutive years.
In Southern Europe, which covers France, Italy, Spain, Austria, Greece, Portugal and Switzerland, both metallic cable production and consumption was marginally down in volume in 2014. Total production was 7.5% lower than in 2010 with consumption over 15% down. The Spanish market finally returned to growth after a long period of decline, but the French and Italian markets remain weak. There were signs that the Greek market has finally bottomed out. In contrast to the metallic cable sector fibre optic cable production and consumption was up significantly, with the total regional market having doubled in the last two years. The three main cable makers in this region are Prysmian, Nexans and General Cable.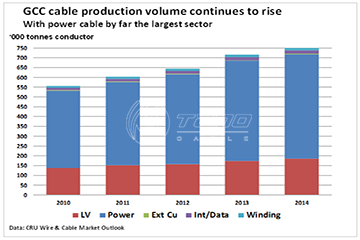 In the GCC, which covers Saudi Arabia, the United Arab Emirates (UAE), Kuwait, Oman, Qatar and Bahrain, production and consumption of insulated metallic cable has continued to grow at a healthy rate. Over the four years to 2014 we estimate that consumption has risen by almost 30% and production growth has been even faster as local manufacturers have continued to gain share at the expense of imports. Saudi Arabia is by far the largest market in this region accounting for over 50% of the total, with the UAE the second largest and Qatar having moved into third place.
The fibre optic cable market has also risen rapidly although the rate of growth in this sector slowed in 2014. Riyadh Cables remains the largest manufacturer, accounting for around a quarter of total production, but some of the other long established manufacturers such as Saudi Cable Company, have lost share to some of the more recent market entrants such as Bahra Cables.