Metallic wire and cable growth underway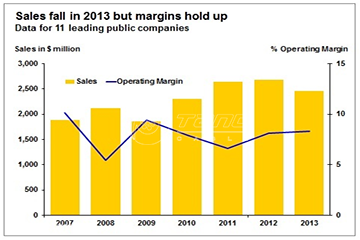 With 2014 now over CRU remains confident that the global recovery in the metallic cable market is underway with a number of indicators pointing to improved growth this year, writes Rob Daniels in the latest edition of the quarterly Wire & Cable Market Outlook Report.
The European market, which has been a drag on the world, should return to growth in 2014 and this should help global insulated metallic wire and cable consumption expand by almost 4%.
The fibre optic cable market is also expected to have a better year with growth back in double digits. With the average copper price forecast to fall again this year the total value of the global insulated wire and cable market is expected to be unchanged at around $175 billion. In the absence of any major economic shocks CRU are still forecasting that global metallic cable growth will be in the range 4% to 4.5% over the period 2015 to 2018.
This is markedly better than 2013 growth, which for metallic insulated wire and cable is estimated at 2.8% in terms of conductor weight. This was marginally worse than in 2012. We slightly down graded our growth for 2013 from the previous issue as a result of a worse performance than we had originally thought in India. Our estimates for growth in the fibre optic cable market were unchanged at 3.8%.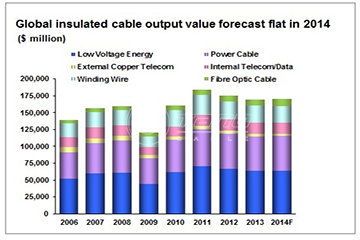 As well as a review of the global cable market with a range of detailed statistics, this report also covers two regions of the world in more detail in each issue with the regions in the latest report being Eastern Europe and India. Neither of these two regions had a particularly good year in terms of market growth in 2013. In Eastern Europe there was a modest growth in metallic cable production in 2013 helped by strong growth in the production of insulated aluminium power cables in Russia. However, total output was still 8% lower than it was in 2008. The automotive sector remains an important part of the wire and cable market in this region with the majority of harnesses used in Western Europe made here
The Indian economy started to slow in 2012 and growth remained sluggish in 2013. This, coupled with a reduction in orders from the utility sector and a slowdown in construction, led to a small fall in metallic cable production in 2013. The only bright spot was the fibre optic cable market where demand grew by almost 50% helped by investment in the National Fibre Optic Network (NFON). Despite the fall in output, average cable industry margins held up well, with cable companies in India still managing to return better margins than the global average. With the new government now in place there is renewed optimism that the market should return to growth this year.