Global metallic Wire & Cable demand for 2015 to grow 3.8%
Global insulated metallic wire and cable demand grew at a faster rate than in 2013, according to CRU's initial estimates for 2014. However, the slowdown in H2 2014 meant that growth of 3.3% was lower than CRU's previous forecast of 3.6%.
"European cable production growth turned negative in H2 and this dragged down global growth from 3.9% in H1 to 2.7% in H2," explained Rob Daniels, principal consultant, Wire & Cable at CRU and writer of the Wire & Cable Market Outlook report which takes an in-depth look at demand for metallic wire and cable.
He added that in contrast to metallic wire and cable, the fibre optic cable sector had a better than expected year with a stronger Q4 than CRU had been forecasting. As a result CRU estimates global demand grew by 12.1% to take the market to 294 million f-km.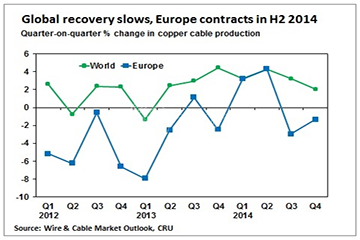 The latest Wire & Cable Market Outlook report, which was published on January 30, showed that despite the growth in both metallic and fibre optic cable consumption, a 7% fall in the average copper price and a small fall in average optical fibre prices meant that the value of the global insulated wire and cable market fell by 0.8% to $172.7bn.
As well as a review of the global cable market with a range of detailed statistics, this report also covers two regions of the world in more detail in each issue with the regions in the latest report being North America and South America.
In North America it was a slow start to the year as a result of the very harsh winter and although things picked up a little the lost ground was not made up and as a result regional market growth in 2014 was slower than in 2013. However, we expect growth to pick up again this year, although demand from the oil and gas sector will fall sharply.
For South America 2014 was a very disappointing year. By far the largest market in the region is Brazil and the economy here has entered a recession and as a result both production and consumption of metallic insulated wire and cable fell. For the rest of the region the majority of countries saw a slowdown in 2014, with the best performer being Colombia, whilst a very sharp drop in the Venezuelan market pulled the region as a whole down by almost 4%.
There are still a number of economic issues for countries in this region to address and the fall in the copper price will hit countries such as Chile and Peru, so although we are forecasting a return to growth at a regional level in 2015 this region will remain one of the weaker parts of the world this year.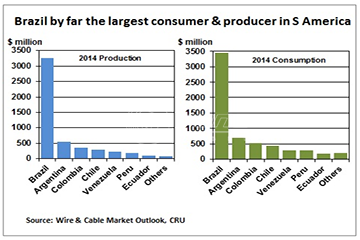 Despite the slowdown in H2 2014, CRU are still forecasting that global metallic insulated wire and cable market growth will accelerate again in 2015, although we have lowered our forecast for the increase to 3.8%. "We expect this year to be the reverse of 2014 with stronger growth in H2 than in H1," said Daniels. Slower growth in the fibre optic cable market and a forecast average copper price 10% lower than in 2014, means that the total value of the global insulated wire and cable market is expected to fall again.