New Industrial Policy Event held in Brussels representing Europa cable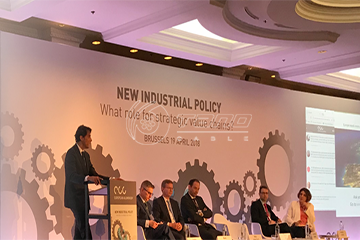 On 19 April 2018 European Aluminium launched its new I+ Manifesto during its public event New Industrial Policy held in Brussels. I+ Manifesto' is a voluntary online initiative to foster the debate about the EU's role in industrial policies for the upcoming EU elections. European Aluminium is the voice of the aluminium industry in Europe. Through environmental and technical expertise, economic and statistical analysis, scientific research, education and sharing of best practices, public affairs and communication activities, European Aluminium promotes the use of aluminium as a material with permanent properties that is part of the solution to achieving sustainable goals, while maintaining and improving the image of the industry, of the material and of its applications among their stakeholders.
European Aluminum's public event was focused on industrial value chains and policies needed to improve the competitiveness of strategic sectors. The EAA conference brought together some 250 senior representatives from international policy making, industry and value chain. Set against the context of the current "turbulent times", it called on the European Commission as well as Member State governments to drive forward a new industry policy notably with a view to China.
The cable industry is ready to build Europe´s future energy infrastructures, we´re driving innovation and we don´t shy away from competition.
This said, we are calling for a level playing field and fair competition. The conference was accompanied by an exhibition of Aluminium applications, including EHV cable samples provided by several Europa cable members.
European Aluminium launched a Manifesto micro-site where users can read or download the Manifesto in multiple languages, vote on the Manifesto and submit their comments. European Aluminium also invited stakeholders to continue the debate on social media using the hashtag