PEACE submarine cable system signs landing agreement with Pakistan and Djibouti
During the 4th Asia-Pacific Undersea Network Forum just held, PEACE Cable International Network signed a memorandum of understanding and a cable landing agreement with Pakistani operators Cybernet and Djibouti Telecom.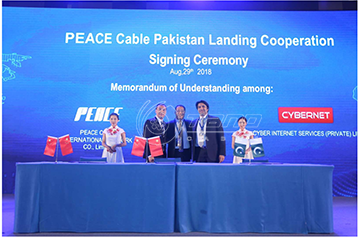 The remaining registrant agreements will also be signed in the next two weeks, a key milestone in the delivery plan, including licensing applications for each country. Geographically, the PEACE submarine cable will connect the world's most populous continents: Asia, Africa and Europe, with backbone connections in Pakistan, Djibouti, Egypt, Kenya and France, providing important economic corridors in Asia, Europe and Africa. Interconnection.
Based on a shared vision of trust, cooperation and win-win, we are committed to building the concept of "open systems" to improve latency, high capacity and carrier-neutral bandwidth services for regional customers in an efficient manner.
Sun Xiaohua, chief operating officer of PEACE, said: "After nearly two months of consultation, the cooperation and negotiation between PEACE and partners has been completed. Thanks to the support of all partners, I hope that PEACE will bring more to the region in the near future. More economic value."
Danish A. Lakhani said: "We are very pleased to participate in the PEACE project and look forward to the many benefits that PEACE cable will bring to Pakistan and its digital economy. In addition to providing much-needed infrastructure for Pakistan's Internet infrastructure In addition to redundancy and reduced latency, this ultra-high-capacity submarine cable system will usher in a new era of affordable Gigabit services in Pakistan."
Djibouti Telecom General Manager Mohamed Assoweh Bouh said: "The goal of Djibouti Telecom is to strengthen its regional hub position, which is a crossroads between three continents, Asia, Africa and Europe. PEACE and DARE will cooperate to realize the digital and economic transformation of the Republic of Djibouti."
In October 2017, during the Third Asia-Pacific Submarine Network Forum held in Hangzhou, China, Huawei Ocean, China Construction Bank, Tropic Science, and China-ASEAN Information Port Co., Ltd. signed a memorandum of understanding on the construction of the PEACE submarine cable system. This is the submarine cable system that connects China and Africa at the shortest distance. In addition, through land-optic cable transfer, the system will also be connected to Europe, with a total length of approximately 6,800 kilometers. It is scheduled to be put into use in the third quarter of 2019, and China Construction Bank will provide financing support for this cable project.