What is neoprene cable? neoprene cable vs pvc cable
Neoprene cable is H07rn-f cable, is a heavy duty use flexible rubber insulated Neoprene jacketed electrical cable, talk about What is neoprene cable? neoprene cable vs pvc cable.
1.What is neoprene cable?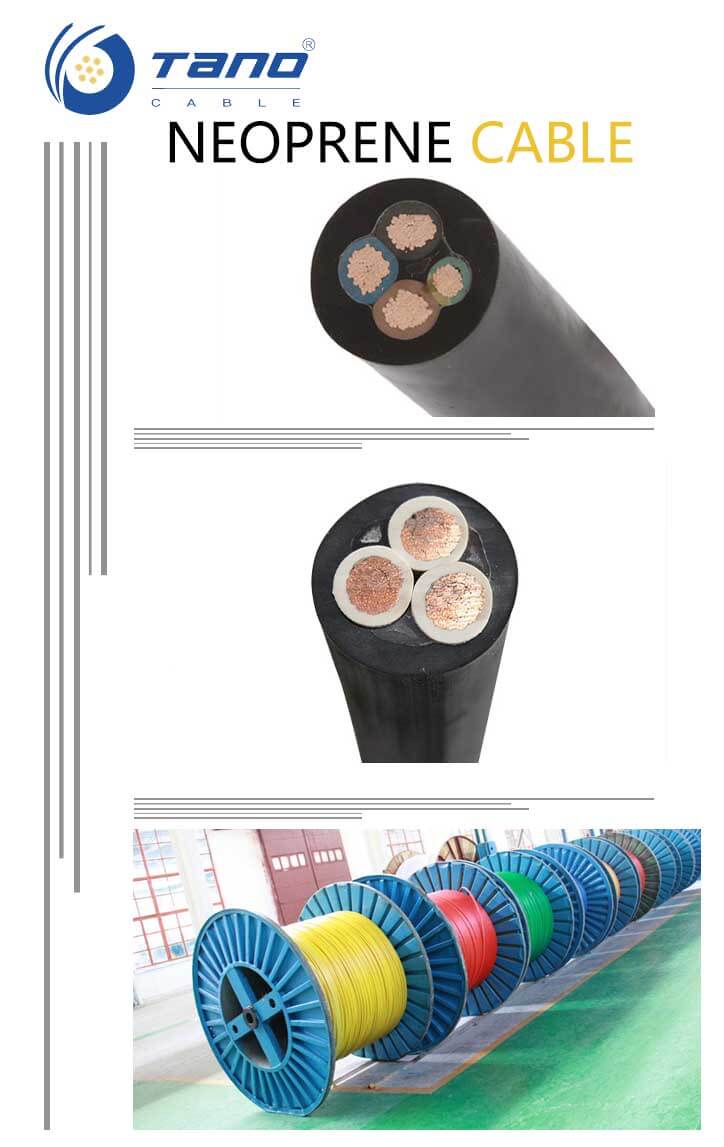 Neoprene cable description
Application:
1) The cable is suitable for rated voltages Uo / U of 450 / 750V, 300 / 500V and 300 / 300V, and the long term permissible operating temperature of the cable should not exceed 65 ° C.
2) cable structure is reasonable, soft, wear, mechanical strength. "W" cable with weather resistance and a certain oil resistance, suitable for outdoor or contact with oil occasions.
Rubber-Insulated Neoprene Cables. neoprene has excellent tensile strength and weathering performance
2.neoprene cable
As a protective material, neoprene has excellent tensile strength and weathering performance. It is also ozone- and compression-resistant.
Rubber-insulated cables are a necessity for many types of mobile electrical equipment. neoprene makes copper cables suitable for outdoor installations.
The low-voltage neoprene cables boasts the following features:
High resistance to abrasions and atmospheric agents
Flexible with high resistance to wear and tear due to flexing and bending
A minimum installation temperature of -25 degrees Celsius
Suitable for heavy-duty conditions
Grease, oil-proof and water resistant
Applications:
Industrial: Durable wiring for cable winding reels (e.g., cranes, conveyors, mining equipment)
Power: Impressive capacity as an energy conduit towards electrode supports (e.g., arc welders)
Control and Communication: Smooth signal transmission (e.g., remote and direct-controlled machine tools)
Keep your facility's supply of insulated cables sufficient to avoid delays in repairs and installations. With our large-capacity inventories, we will keep you well-supplied with rubber-insulated neoprene cables for indoor and outdoor use.
3.neoprene cable vs pvc cable
1)Neoprene is a synthetic rubber that allows for a resilient jacket. By not embrittling at cold temperatures, resisting permanent deformation under heat, and resisting aging due to oxidation and sunlight, neoprene jackets are suitable for cables in rugged environments.
2)PVC Cable – Polyvinyl Chloride (PVC) jackets, while not exhibiting a wide range of thermal characteristics, do have the ability to resist oils, acids, sunlight, heat, weathering and abrasion. By having such strong physical assets, PVC is an ideal jacket for cables that will be used for direct burial, street lighting and control cable. Since PVC is inherently flame retardant, it is the most common jacketing material for electronic cable.
More information please visit
https://www.tanocable.com/products/
. TANO CABLE will provide the best support for you!